Dayco, a leading engine products and drive systems supplier for the automotive, industrial and aftermarket industries, continues to introduce new ways for professional techs and do-it-yourselfers to make vehicle repairs faster and easier. The company is expanding its line of serpentine belt kits, introducing 32 new skus that cover millions of today's domestic and import light trucks, SUVs and light-duty fleet vehicles on the road.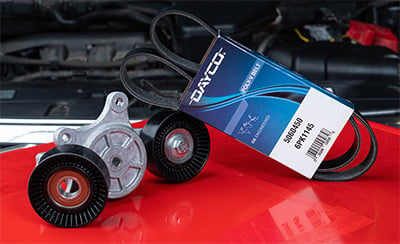 Each OE-quality serpentine belt kit includes all application-specific components needed to complete a front-end accessory drive (FEAD) system repair. Currently available to order for customers in the U.S. and Canada, the 32 new part numbers include Dayco premium belts, tensioners and pulleys when called for by the OE.
In addition to Dayco's exclusive flat spring technology tensioner and durable idler pulleys that reduce vibration while extending belt life, each kit will include at least one of three different Dayco belts depending on application:
Standard Serpentine Belt – This EPDM belt's rib profile is engineered to conform to high mileage, worn or misaligned drives and helps eliminate noisy belt conditions.
Aramid Cord Belt – Specifically for applications that have noise, vibration or harshness issues, or in-drive systems in which tensioner take-up is minimal.
ela® Belt – Engineered for two to four point drives on light-duty vehicles that do not require automatic or manual tensioning. The belt allows for the high elongation required for installation, yet provides the proper tension maintenance properties to transmit the accessory loads demanded for the drive.
"The benefit to changing out all front-end components at the same time is that it helps prevent comebacks, reduces noise issues and enhances overall system performance," said Jay Buckley, Director of Product Management for Dayco North America. "And, our new kits make it easier than ever – as well as more affordable – to complete a full front-end accessory drive repair at the same time."
Click here for more information on Dayco's light-duty serpentine belt kits. Belt maintenance and inspection resources may be found in the company's Tech Hub. Technicians can also utilize Dayco's robust parts search feature to find the exact kit needed for their next repair, searching by Y/M/M, VIN or license plate number.
About Dayco
Dayco is a global leader in the research, design, manufacture and distribution of essential engine drive systems and aftermarket services for automotive, truck, construction, agriculture and industrial applications.
Through its expertise in transferring power quietly and efficiently, Dayco has emerged as the leading global system solutions provider for hybrid electric vehicles. Dayco's 115+ years of experience in drive systems allows the company to equip all customer applications around the world with the most effective drive systems to meet customer specific performance requirements. Dayco's world class global distribution network services the aftermarket industry with a full offering of kits and products to meet each local market's need. Dayco accomplishes this with a dedicated global team that respects one another, shows humility through continuous learning and acts like owners in everything they do.
Dayco has more than 40 locations in 22 countries and over 3,600 associates. For more information about Dayco, visit the company's website at www.dayco.com.