November 1, 2021 – Continuing to expand upon its water pump offerings, Dayco, a leading engine products and drive systems specialist for the automotive and aftermarket industries, is launching an extensive line of electric water pumps.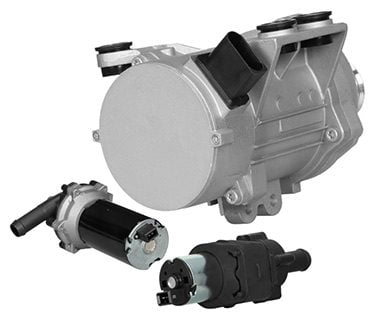 The line, which will be available for order placements before the end of 2021, includes close to 30 SKUs that cover almost 10 million vehicles in operation.
"These water pumps are designed as an OE-quality replacement for vehicles that require an electric water pump – specifically electric, hybrid, turbocharged and many stop/start vehicles," said Tom Tecklenburg, VP, Dayco North American Aftermarket. "We wanted to ensure our customers had access to a high-quality affordable alternative to original equipment pumps."
Dayco's electric water pumps are designed as direct fit bolt-on replacements that do not require any modifications during installation. Designed with OE form, fit and function, this new line of electric water pumps helps maintain systems that improve fuel economy and allows for increased engine response and engine-off cooling. All pumps feature self-lubricating, graphite composite corrosion-resistant bearings that are compatible with all engine coolants, as well as tapered motor brushes for quick break-in. Select applications also come with an aluminum cover design that is more robust than many OEM plastic pump covers to help prolong pump life.
Dayco's new electric water pumps join an extensive line of traditional water pumps, which offer almost 1,000 part numbers for 98%+ coverage for NA vehicles in operation. Dayco has full control of the production process from raw material to finished product and is committed to the highest quality standards with TS16949 certification. Dayco's pumps go through extensive failure mode analysis to ensure the best quality and performance and many models come with a 125,000 mile extended warranty. For more information, distributors should reach out to their Dayco sales representative.
About Dayco
Dayco is a global leader in the research, design, manufacture and distribution of essential engine drive systems and aftermarket services for automotive, truck, construction, agriculture and industrial applications.
Through its expertise in transferring power quietly and efficiently, Dayco has emerged as the leading global system solutions provider for hybrid electric vehicles. Dayco's 100+ years of experience in drive systems allows the company to equip all customer applications around the world with the most effective drive systems to meet customer specific performance requirements. Dayco's world class global distribution network services the aftermarket industry with a full offering of kits and products to meet each local market's need. Dayco accomplishes this with a dedicated global team that respects one another, shows humility through continuous learning and acts like owners in everything they do.
Dayco has more than 40 locations in 21 countries and over 3,600 associates. For more information about Dayco, visit the company's website at www.dayco.com.