May 25, 2022 – Dayco, a leading engine products and drive systems supplier for the automotive, industrial and aftermarket industries, is exhibiting at Autopromotec, Bologna on stand C54 in hall 16, where it will be inviting visitors to see and discuss its fast-growing range of repair solutions for aftermarket professionals in the EMEA (Europe, the Middle East and Africa) region.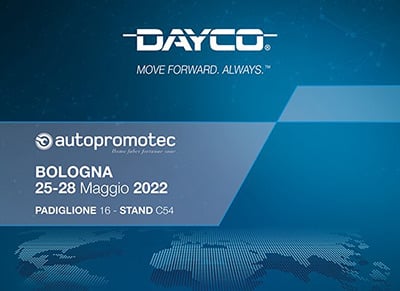 Reflecting the vehicle manufacturer's (VM) ongoing shift in technology towards a hybrid and electric vehicle (EV) future, the original equipment (OE) supplier will itself be highlighting the many new products it has recently introduced, to complement the traditional combustion engine related products for which Dayco is so highly regarded. Therefore, alongside its core power transmission products, which include primary and auxiliary drive system components, it will be showing its wheel bearing, thermal management and chassis system solutions.
"As a preferred partner to VMs around the world, Dayco has the design capability and technical resources to enable it to respond to the changing face of the industry and supply the independent aftermarket with the repair solutions it requires, whether for traditional combustion engine powered vehicles, or the emerging hybrid and EV sector," explains Communication and New Product Manager, Andrea Centrella.
As a result, the introduction of complementary products that reflect the company's core principle of OE quality and technical excellence, and which began with its wheel bearing programme, has grown to include steering & suspension components and thermal management products including electric water pumps, for not only hybrid and EVs, but for selected traditional combustion engine applications.
In addition to the exceptional technical calibre of these new products, they naturally also conform with the company's global brand guidelines, which instils professional installers with confidence, as they all convey a clear and consistent message, so providing them with the reassurance that they are fitting OE quality replacement parts they can trust .
To further underpin our aftermarket offering, Dayco also provides the technical advice and fitting tips and comprehensive webcat support, to ensure these new to range additions, alongside our well-established products, are a superb aftermarket solution for installers and wholesalers alike.
About Dayco
Dayco is a global leader in the research, design, manufacture and distribution of essential engine drive systems and aftermarket services for automotive, truck, construction, agriculture and industrial applications.
Through its expertise in transferring power quietly and efficiently, Dayco has emerged as the leading global system solutions provider for hybrid electric vehicles. Dayco's 115+ years of experience in drive systems allows the company to equip all customer applications around the world with the most effective drive systems to meet customer specific performance requirements. Dayco's world class global distribution network services the aftermarket industry with a full offering of kits and products to meet each local market's need. Dayco accomplishes this with a dedicated global team that respects one another, shows humility through continuous learning and acts like owners in everything they do.
Dayco has more than 40 locations in 22 countries and over 3,600 associates. For more information about Dayco, visit the company's website at www.dayco.com.