June 14, 2019 – Dayco, a leading engine products and drive systems supplier for the automotive, industrial and aftermarket industries, participated in the Expopartes 2019 trade show that took place in the city of Bogota, Colombia, between June 05 and 07, 2019.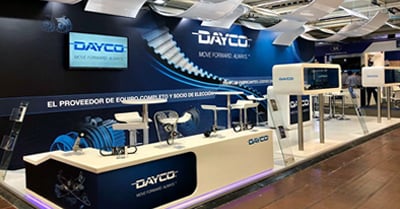 The exhibition, which is one of the main events in the South America sector, primarily for the Andean region and recognized by hundreds of business professionals as a specialized event for companies that belong to the automotive and auto part sector, boasted the participation of more than 420 national and international exhibitors and in excess of 26,000 professional visitors.
Dayco's involvement emphasized the company's focus towards getting closer to its customers, taking information, new products, innovations and technical support, as well as demonstrating its ongoing investment, to those attending.
Expopartes was also an excellent opportunity for visitors to engage with Dayco's new communication material, whether through its corporate identity, latest packaging or accompanying printed material.
Dayco has experienced significant sales growth in the Andean region, where, from its various plants in Brazil, Argentina, United States, Europe and China, it supplies a variety of products for vehicles from across all sectors of the market. Naturally, these are all manufactured to the same original equipment standard and provide a premium quality solution on which its customers can depend.
For more information about Dayco, visit the aftermarket website at www.daycoaftermarket.com where customers and technicians can find comprehensive technical information and product support.
About Dayco
Dayco is a global leader in the research, design, manufacturing and distribution of essential engine products, drive systems and services for automobiles, trucks, construction, agriculture and industry.
Dayco's contributions are integral to how people get from place to place, goods are transported, food is harvested, and infrastructure is built. The company operates according to long-held values — keeping promises, delivering on time all the time, and an intense commitment to service no matter what the obstacles. For more than a century, Dayco has overcome challenges, emerging stronger and smarter at every turn.
Dayco improves how the world moves by creating products, systems and relationships that endure. Move Forward. Always.™