December 2, 2021 – Dayco, a leading engine products and drive systems specialist for the automotive, industrial and aftermarket sectors, is rounding out its hydraulic offering with the expansion of its KWIK-FLEX product line, a competitively priced line that was only available on a limited basis in Canada. KWIK-FLEX now includes more comprehensive coverage for the most popular types and sizes of hoses and fittings and is available to customers in both the United States and Canada for order.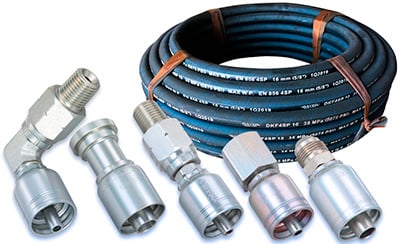 The initial product offering includes a variety of different hose types –– all of which meet or exceed the appropriate SAE hose ratings. KWIK-FLEX also features some of the most popular fitting types to ensure leak-proof performance regardless of application, including JIC, 45° flare, O-ring boss, O-ring face seal, flange and American dryseal pipe thread.
"Expanding our hydraulics line is part of a greater strategic initiative at Dayco to ensure we have full coverage in the industrial market sector," said Tyler Samagalski, Director of Industrial, Fluid Power and Performance for Dayco North America. "This is a big area of growth for Dayco, and you will continue to see more industrial products from us as we head into 2022."
The KWIK-FLEX line features 600+ part numbers and covers the most popular industrial applications including agriculture, timber, construction, manufacturing and transportation equipment. The hoses are constructed to move hydraulic fluids at normal flow rates yet engineered to handle a wide temperature range and abrasive conditions.
Through extensive research and development of hydraulic hoses and fittings for pressurized fluid systems, Dayco understands the needs of today's industrial hydraulic users. Dayco's hose and fittings are at the forefront of the hydraulics market and provide extensive coverage with reliable service for the machinery, construction, agriculture and transportation segments.
About Dayco
Dayco is a global leader in the research, design, manufacture and distribution of essential engine drive systems and aftermarket services for automotive, truck, construction, agriculture and industrial applications.
Through its expertise in transferring power quietly and efficiently, Dayco has emerged as the leading global system solutions provider for hybrid electric vehicles. Dayco's 100+ years of experience in drive systems allows the company to equip all customer applications around the world with the most effective drive systems to meet customer specific performance requirements. Dayco's world class global distribution network services the aftermarket industry with a full offering of kits and products to meet each local market's need. Dayco accomplishes this with a dedicated global team that respects one another, shows humility through continuous learning and acts like owners in everything they do.
Dayco has more than 40 locations in 22 countries and over 3,600 associates. For more information about Dayco, visit the company's website at www.dayco.com.