April 26, 2022 – Dayco, a leading engine product and drive systems manufacturer for the automotive, heavy-duty and industrial market segments, is highlighting its rebranded and reinvigorated Dayco PowerTM CVT belts for multiple applications, particularly focusing on the motorcycle and scooter sector in Europe, the Middle East and Africa.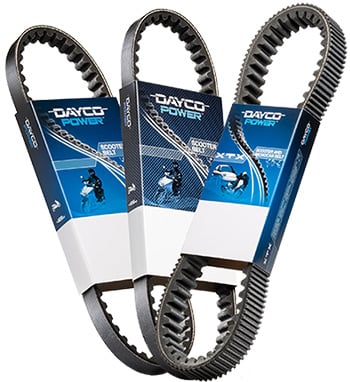 Not only is the revised programme now resplendent in its modern and distinct branding, which is clearly aligned to the company's recognisable global identity, the range has been overhauled to ensure it provides Dayco customers with the depth of range they need to satisfy the requirements of end-users and their machines. As a result, the 150 part numbers in the rejuvenated range encompass three tiers to cater for machines of different capacities and performance characteristics, and together, these cover more than 1,000 European applications.
For machines of 50cc-200cc with typical performance ratings, Dayco has its Standard, flat back polyester cord range, which includes 72 part numbers. However, to cater for machines up to 400cc that deliver a greater level of performance, the company has introduced a new belt, recognised by the suffix K at the end of the identification number, which consists of 62 part numbers and incorporates an inner core of aramid fibre, to provide excellent dimensional stability and so transfer power quickly and reliably.
The third belt in the programme is the top of the range XTX, which also features an aramid cord, but is 100% double cogged to provide enhanced levels of flexibility, while retaining the dimensional stability required for high power machines of 400cc and above. Naturally, this more focused product has a more limited market, but with 16 part numbers Dayco is still able to cater for the demands of the majority of these high performance machines.
Not only is the packaging for these three offerings clear and distinct, making recognition of the appropriate product easy for suppliers, accurate identification of the correct part number for every given application is addressed through the company's excellent online Aftermarket Webcat, which quickly pinpoints the belt required. Dayco has recently further improved the user experience of the Webcat by increasing the number of search methods and product groups it contains and these innovations, alongside added functionality, such as belt images and dimensions, give users added reassurance.
"By utilising the resources and manufacturing expertise amassed from its position as a global leader in belt technology in the automotive sector, Dayco has been able to develop a motorcycle and scooter range that not only fulfils the requirements of the market in terms of the various levels of performance, but also provides the depth of range to allow it to cater for Europe's most popular applications," explains Global Industrial Belts Product Manager, Emanuele Crotta.
"In addition, the CVT programme provides wholesalers with an attractive, marketing focused offering that is easy to identify and, through its clear and striking graphics, conveys a clear and consistent message that these are premium quality products that encompass technological integrity."
About Dayco
Dayco is a global leader in the research, design, manufacture and distribution of essential engine drive systems and aftermarket services for automotive, truck, construction, agriculture and industrial applications.
Through its expertise in transferring power quietly and efficiently, Dayco has emerged as the leading global system solutions provider for hybrid electric vehicles. Dayco's 100+ years of experience in drive systems allows the company to equip all customer applications around the world with the most effective drive systems to meet customer specific performance requirements. Dayco's world class global distribution network services the aftermarket industry with a full offering of kits and products to meet each local market's need. Dayco accomplishes this with a dedicated global team that respects one another, shows humility through continuous learning and acts like owners in everything they do.
Dayco has more than 40 locations in 22 countries and over 3,600 associates. For more information about Dayco, visit the company's website at www.dayco.com.