January 24, 2022 – Dayco, a leading engine products and drive systems supplier for the automotive, industrial and aftermarket industries, has announced that despite industry-wide supply chain challenges, its heavy-duty 2-piece tensioner is stocked and ready for customer orders. The tensioner, designed to help address significant repair issues for Detroit Diesel 13 and 15 series engines, cuts installation time in half and helps ensure fleet uptime. In addition, Dayco's technical team has developed a step-by-step installation video and 1-page technical guide to ensure today's technicians have the information needed for a quick and successful installation.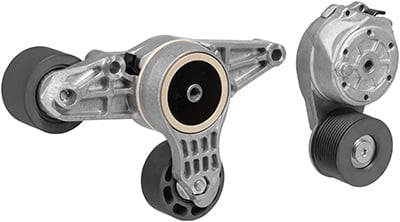 The Dayco team recently unveiled the tensioner at the AAPEX '21 show to help address significant repair issues for Detroit Diesel 13 and 15 series engines. Vehicle makes and models with these specific engine types use a competitor's dual tensioner assembly – a 1-piece tensioner that keeps tension on two belts – and while it's been upgraded over time, is still very difficult to install.
"This particular tensioner was engineered to be more durable and much easier to install than the original equipment," said Jay Buckley, Director of Product Management, Dayco North American Aftermarket. "With the original tensioner, techs are required to bend an 8-rib belt sideways through a narrow opening during replacement, which can lead to belt issues if not done carefully. We've addressed this issue and in doing so, cut installation time significantly."
Part number 89947 covers more than 600,000 2008-2020 Freightliner, Kimble Chassis, Pierce Mfg. Inc., Sterling Truck, Van Hool and Western Star vehicle applications. With this new design, instead of struggling to get the belt on a 1-piece tensioner, Dayco split the system in two, so the product has an outer and inner tensioner. Cutting installation time in half compared to traditional 1-piece tensioners will help save hundreds of hours and dollars for fleet managers.
To place an order for the 2-piece tensioner, distributors should contact their Dayco heavy-duty sales representative. For additional product information, technicians and fleet owners should visit Dayco's 2-piece tensioner featured product page.
About Dayco
Dayco is a global leader in the research, design, manufacture and distribution of essential engine drive systems and aftermarket services for automotive, truck, construction, agriculture and industrial applications.
Through its expertise in transferring power quietly and efficiently, Dayco has emerged as the leading global system solutions provider for hybrid electric vehicles. Dayco's 100+ years of experience in drive systems allows the company to equip all customer applications around the world with the most effective drive systems to meet customer specific performance requirements. Dayco's world class global distribution network services the aftermarket industry with a full offering of kits and products to meet each local market's need. Dayco accomplishes this with a dedicated global team that respects one another, shows humility through continuous learning and acts like owners in everything they do.
Dayco has more than 40 locations in 22 countries and over 3,600 associates. For more information about Dayco, visit the company's website at www.dayco.com.