December 21, 2021 – Dayco, a leading engine products and drive systems supplier for the automotive, industrial and aftermarket industries, was awarded the Best Belt Brand and ranked third in the Spark Cables category during the celebration held by SINDIREPA – RJ.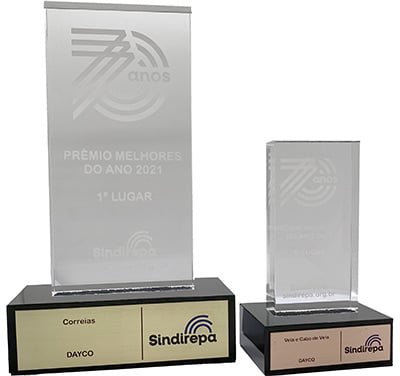 The event is now in its 6th edition and awards 57 companies in 19 categories, with the objective of reinforcing the importance of the automotive repair industry.
The winners of this edition were chosen through surveys carried out with 350 garages in Rio de Janeiro, which evaluated and selected their favorite brands that stood out in 2021.
Marcelo Sanches, Aftermarket Director for Latin America, who was present at the event, commented: "It is an honor for us to receive this award and reaffirm the importance of our products with the garages. Congratulations to SINDIREPA – RJ for the ceremony, you are a great partner to Dayco and effectively contribute to the growth of the aftermarket. For those that voted for us, I have to say thank you and that you can count on us! Our regional teams are always committed to serving you and implementing solutions that enhance the work of our brand in all channels: distributors, retailers and garages."
About Dayco
Dayco is a global leader in the research, design, manufacture and distribution of essential engine drive systems and aftermarket services for automotive, truck, construction, agriculture and industrial applications.
Through its expertise in transferring power quietly and efficiently, Dayco has emerged as the leading global system solutions provider for hybrid electric vehicles. Dayco's 100+ years of experience in drive systems allows the company to equip all customer applications around the world with the most effective drive systems to meet customer specific performance requirements. Dayco's world class global distribution network services the aftermarket industry with a full offering of kits and products to meet each local market's need. Dayco accomplishes this with a dedicated global team that respects one another, shows humility through continuous learning and acts like owners in everything they do.
Dayco has more than 40 locations in 22 countries and over 3,600 associates. For more information about Dayco, visit the company's website at www.dayco.com.