Dayco, a leading engine products and drive systems supplier for the automotive, industrial and aftermarket industries, is pleased to announce that Summit Racing Equipment has expanded its offering of Dayco products.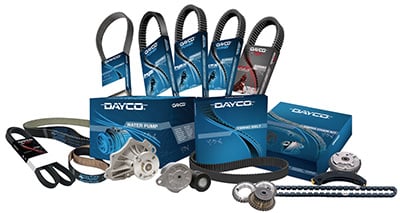 Summit Racing has four retail stores as well as distributorships across the country and is known among the industry for fast shipping, customer service and tech expertise. They offer a full line of parts and accessories for today's cars and trucks and have added more than 2,000 new Dayco part numbers to its portfolio of components available for purchase.
Do-it-yourself and wholesale customers of Summit can now access a full line of Dayco products on the Summit Racing online parts portal – from Dayco timing chain kits, serpentine belt kits and hoses to belts, tensioners, water pumps and pulleys. Summit Racing also offers Dayco supercharger and blower belts, which are both designed for racing applications. In addition, customers have access to the Dayco POWER line through Summit, which includes multiple high performance CVT belts for SXS, ATVs and snowmobiles.
"We are excited to have solidified a partnership with Summit Racing," said Jerry Reeves, head of Product Management, Dayco N.A. Aftermarket. "They are great to work with and we love that a new group of enthusiasts and technicians now have access to Dayco's high-performance products."
To see the full range of Dayco components and belts currently available through Summit Racing, click here.
About Dayco
Dayco is a global leader in the research, design, manufacture and distribution of essential engine drive systems and aftermarket services for automotive, truck, construction, agriculture and industrial applications.
Through its expertise in transferring power quietly and efficiently, Dayco has emerged as the leading global system solutions provider for hybrid electric vehicles. Dayco's 115+ years of experience in drive systems allows the company to equip all customer applications around the world with the most effective drive systems to meet customer specific performance requirements. Dayco's world class global distribution network services the aftermarket industry with a full offering of kits and products to meet each local market's need. Dayco accomplishes this with a dedicated global team that respects one another, shows humility through continuous learning and acts like owners in everything they do.
Dayco has more than 40 locations in 22 countries and over 3,600 associates. For more information about Dayco, visit the company's website at www.dayco.com.