November 11, 2021 – Dayco, a leading engine products and drive systems specialist for the automotive, industrial and aftermarket sectors, announces its winter sales promotion – Snow Me the Money. Geared directly at the counter staff of Dayco's direct jobber customers in the U.S. and Canada, this promotion rewards participants for selling Dayco's premium branded line of water pumps, kits and belts beginning November 10th and running through December 31, 2021.
For every belt, water pump or kit sold, participants earn $1-$10 in 'promo cash', which can then be used toward gift cards from wide array of retailers and restaurants, including Adidas, American Eagle, Bass Pro Shop, Chili's, Home Goods, Groupon, Red Lobster, Starbucks and more.
Easy as 1-2-3: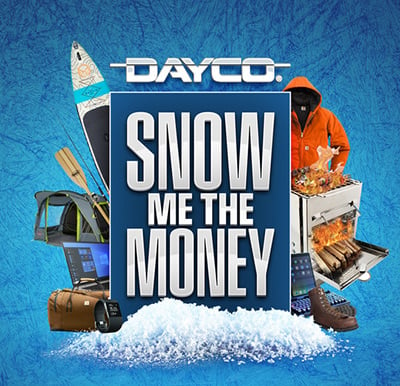 1: Counter people register online
2: Participants track and upload their invoices to the online promo portal:
– $10 for each Dayco timing belt water pump kit
– $5 for each Dayco standalone water pump
– $5 for each Dayco timing component kit or Dayco Poly-V serpentine belt kit
– $1 for every industrial belt
3: Participants use their promo cash to 'purchase' gift cards online from a wide selection of top retailers, including Adidas, American Eagle, Bass Pro Shop, Chili's, Home Goods, Groupon, Red Lobster, Starbucks and more!
For complete program rules and regulations, click here to visit the promo portal directly. For more information, participants should contact their local Dayco distributor or Dayco sales representative.
About Dayco
Dayco is a global leader in the research, design, manufacture and distribution of essential engine drive systems and aftermarket services for automotive, truck, construction, agriculture and industrial applications.
Through its expertise in transferring power quietly and efficiently, Dayco has emerged as the leading global system solutions provider for hybrid electric vehicles. Dayco's 100+ years of experience in drive systems allows the company to equip all customer applications around the world with the most effective drive systems to meet customer specific performance requirements. Dayco's world class global distribution network services the aftermarket industry with a full offering of kits and products to meet each local market's need. Dayco accomplishes this with a dedicated global team that respects one another, shows humility through continuous learning and acts like owners in everything they do.
Dayco has more than 40 locations in 21 countries and over 3,600 associates. For more information about Dayco, visit the company's website at www.dayco.com.