Dayco, a leading engine product and drive systems manufacturer for the automotive, heavy-duty and industrial market segments, is adding a selection of niche powersport – snowmobile, all-terrain and utility task vehicle – belts to its Dayco PowerTM CVT range, to support these specialist applications, in Europe, the Middle East and Africa (EMEA).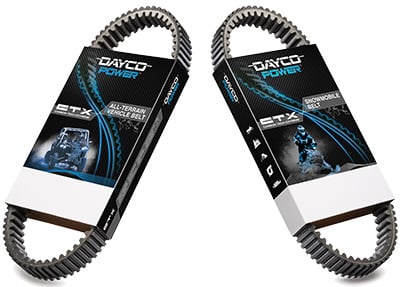 The Dayco PowerTM CVT range now encompasses five belts, as the original HPTM, HPXTM, XTXTM and RPXTM options have been joined by the CTXTM belt, the ultimate solution for extreme sport applications that provides riders with the very best in grip, power, braking and acceleration, as it is designed to withstand the higher torque and heavier loads associated with highly modified engines.
In detail, the full Dayco PowerTM CVT powersports range provides riders with premium quality, application-specific belts that ensure reliability under any conditions:
POWER CTX – This all-new belt is specially engineered for heavily modified all-terrain vehicles (ATVs), side by sides (SXS) and snowmobiles, with engines of more than 800cc. Proven to outperform and outlast original equipment belts, it features aramid reinforced HNBR rubber for maximum lateral rigidity and higher temperature resistance, and integrates a patented carbon fiber-glass hybrid cord for maximum strength and adhesion to the HNBR compound. This new generation high load belt encompasses 21 part numbers and caters to numerous Artic Cat, Bombardier, Can-Am, Kawasaki, Polaris, Ski-Doo and Yamaha applications.
POWER HP – Designed for low to mid-range horsepower vehicles up to 350cc including ATVs, golf carts and snowmobiles, with standard engines and no modifications. Designed to provide dependable, smooth performance and dimensional stability for leisure, care-free trail riding and yardwork for today's lower horsepower vehicles. They are manufactured from a specially formulated fiber reinforced polychloroprene rubber compound and aramid cords.
POWER HPX – Engineered for UTVs, ATVs and snowmobiles with mid to high horsepower engines between 350cc-600cc, with minimal upgrades/modifications. Constructed with Dayco's top cog design for increased flexibility, extra strong aramid cords and fiber-loaded rubber compound, it has been proven to run cooler and last longer than competitor belts.
POWER XTX – Developed for high horsepower snowmobiles, SXS and ATVs up to 120HP, with moderate performance upgrades and engines up to 800cc. Engineered to maximize performance with a specially formulated high temperature polymer and with deeper cogs on top of the belt and rounded cogs on the bottom, providing ultimate flexibility and longer life.
POWER RPX – Engineered to provide maximum performance under the most extreme snowcross racing conditions. Features precisely pre-formed cogs that enable optimal flexibility, cooler running and extended belt life, along with high twist cords that demand intense strength under extreme tension.
This new range naturally follows Dayco's distinct branding and reflects the company's recognizable global identity. Accurate identification of the correct part number for every given application is addressed through the company's excellent online aftermarket Webcat, which quickly pinpoints the belt required. In addition, full descriptions and the main features of the entire range are available online, with the option of printed material to support the company's valued channel partners.
About Dayco
Dayco is a global leader in the research, design, manufacture and distribution of essential engine drive systems and aftermarket services for automotive, truck, construction, agriculture and industrial applications.
Through its expertise in transferring power quietly and efficiently, Dayco has emerged as the leading global system solutions provider for hybrid electric vehicles. Dayco's 115+ years of experience in drive systems allows the company to equip all customer applications around the world with the most effective drive systems to meet customer specific performance requirements. Dayco's world class global distribution network services the aftermarket industry with a full offering of kits and products to meet each local market's need. Dayco accomplishes this with a dedicated global team that respects one another, shows humility through continuous learning and acts like owners in everything they do.
Dayco has more than 40 locations in 22 countries and over 3,600 associates. For more information about Dayco, visit the company's website at www.dayco.com.