August 25, 2021 – Dayco, a leading engine products and drive systems specialist for the automotive, industrial and aftermarket industries, partnered with Racers Edge Motorsports for the 2021 season as part of the company's ongoing commitment to the racing industry. The team features Dayco's signature decal on its 2019 Acura NSX GT3 Evo and team transporter as well as installs Dayco serpentine belts on its vehicles for the SRO Fanatec GT World Challenge America powered by AWS race series.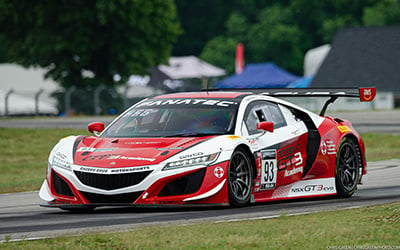 "Dayco serpentine belts are superior quality and we have full confidence in their performance during the extreme heat and high RPM of racing," said Jon Mirachi, team manager, Racers Edge Motorsports, Inc. "With a win on the line, we can count on Dayco's belts to perform throughout every lap."
Dayco belts have gone through extensive laboratory, road and racetrack testing to ensure they can handle higher workloads and temperatures. Constructed with aramid reinforced EPDM compounds, the Dayco poly-V serpentine belt provides extensive flexibility and performance, making it an ideal belt for road racing.
Halfway through the season, Racers Edge is currently 3rd in the Pro-Am team standings. Their drivers have podiumed in three of the six races; and are ready to finish the season strong. Dakota Dickerson and Taylor Hagler will take to the track this weekend, Aug. 27-29, at Road America. The team will then head to Watkins Glen in September before finishing the season at Sebring International Raceway and the Indianapolis Motor Speedway in October.
Not only is Racers Edge one of the leading sports car racing teams in the circuit, they also run the HPD GT3 Driver Academy, which was designed to enable qualified professional racers to accelerate their racing career via 'on-track' and 'off-track' skills training from experienced Acura NSX GT3 Evo drivers, Honda Performance Development (HPD) supported teams and HPD personnel.
"We really like the work the team does with the driving academy," said Dipesh Maniar, racing manager for Dayco North America. "It's a great opportunity for Dayco to expose some of the up-and-coming drivers to our full range of products and the testing that goes into them."
Since its inception in 1905, Dayco has had a long-standing history in racing, working directly with teams from around the globe that run some of the fastest vehicles in the world. The company prides itself on providing engineering support and application-specific technology – intended just for race vehicles.
About Dayco
Dayco is a global leader in the research, design, manufacture and distribution of essential engine drive systems and aftermarket services for automotive, truck, construction, agriculture and industrial applications.
Through our expertise in transferring power quietly and efficiently, Dayco has emerged as the leading global system solutions provider for hybrid electric vehicles.  Dayco's 100+ years of experience in drive systems allows us to equip all customer applications around the world with the most effective drive systems to meet customer specific performance requirements.  Dayco's world class global distribution network services the aftermarket industry with a full offering of kits and products to meet each local market's need.  We accomplish this with a dedicated global team that respects one another, shows humility through continuous learning and acts like owners in everything we do.
Dayco has more than 40 locations in 21 countries and over 4,000 associates. For more information about Dayco, visit the Company's website at www.dayco.com