January 18, 2022 – Dayco, a leading engine products and drive systems supplier for the automotive, industrial and aftermarket industries, is shaking up the powersports market with its portfolio of Dayco POWER CVT belts. The new line includes a full range of specially engineered belts for various riding levels and engine sizes, including an extreme performance belt for heavily modified vehicles with engines over 800cc.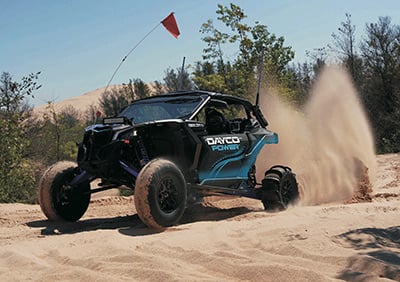 With more than 200 part numbers, Dayco's new line was designed and engineered by the company's very own powersports enthusiasts to provide a range of premium options based on engine size, horsepower range, modifications and riding level, from leisure trail riding to extreme sports. Currently, there are four belts in the POWER lineup – HP™, HPX®, XTX™ and RPX®. A fifth belt, POWER CTX™, will be available in Q3 and is designed to outperform and outlast OE belts in lab and real-world testing.
"We have been working behind the scenes for the last 18 months, attending mudding, sand and snowcross events, talking to enthusiasts and testing our products on vehicles with varying modifications," said Jay Buckley, Director of Product Management, Dayco North American Aftermarket. Buckley, along with his tech team, all own and/or race side by sides, motorcycles or snowmobiles. "We believe our passion for powersports coupled with our experience in engineering and technology gives us a unique perspective when we set out to develop new products. We are all in when it comes to advancing belt performance and cannot wait for more riders to test out our belts."
The full line of OE-quality powersports products includes application-specific belts that ensure reliability under any driving circumstance:
POWER CTX – This all-new belt is specially engineered for heavily modified all-terrain vehicles (ATVs), side by sides (SXS) and snowmobiles with over 800cc engines. Proven to outperform and outlast original equipment belts, the Dayco POWER CTX belt is changing the powersports game. Featuring the highest level of aramid reinforced HNBR rubber for maximum lateral rigidity and higher temperature resistance, the belt's design integrates a patented carbon hybrid cord for maximum strength and adhesion to the HNBR compound for the prevention of cord pop out failures. POWER CTX was specifically developed for extreme sport use, providing the most aggressive riders with the best in grip, power, braking and acceleration, as they are designed to withstand the higher torque and heavier loads associated with highly modified engines.
POWER XTX – Developed for high horsepower snowmobiles, SXS and ATVs up to 120HP with moderate performance upgrades and engines up to 800cc. Bred from a rich history of experienced belt builders, Dayco POWER XTX is engineered to maximize performance with a specially formulated high temperature polymer. It's proven to perform better in a wider range of belt operating temperatures compared to leading competitors and with deeper cogs on top of the belt and rounded cogs on the bottom, provides ultimate flexibility and longer belt life.
POWER HPX – Engineered for UTVs, ATVs and snowmobiles with mid-to-high horsepower engines between 350cc-600cc with minimal upgrades/modifications. From mud holes and rocky trails to snow hill climbs and desert treks, the POWER HPX belt delivers unparalleled performance and reliability for today's mid-to-high horsepower ATVs, SXS and snowmobiles. Constructed with Dayco's top cog design for increased flexibility, extra strong aramid cords and fiber-loaded rubber compound, the POWER HPX belt has been proven to run cooler and last longer than competitive belts.
POWER HP – Designed for low- to mid-range horsepower vehicles up to 350cc including ATVs, golf carts and snowmobiles with stock engines and no modifications. Dayco POWER HP belts are designed to provide dependable, smooth performance and dimensional stability for leisure, care-free trail riding and yardwork for today's lower horsepower vehicles. Fast becoming the belt of choice for these applications, the HP belts are manufactured from a specially formulated fiber reinforced polychloroprene rubber compound and aramid cords.
POWER Racing RPX – Engineered to provide maximum performance under the most extreme snowcross racing conditions. This belt features precisely pre-formed cogs that enable optimal flexibility, cooler running and extended belt life, along with high twist cords that demand intense strength under extreme tension. Not only is it the Official Belt of the CSRA and belt of choice for many professional racers, the Dayco Racing RPX belt is also the strongest aramid belt available on the market. Its softer specialized polymer compound allows for quicker upshifts and downshifts and the fastest hole shot, helping racers stay ahead of the competition.
For more information about the Dayco POWER line or to access the full catalog, visit Dayco's featured product page online.
About Dayco
Dayco is a global leader in the research, design, manufacture and distribution of essential engine drive systems and aftermarket services for automotive, truck, construction, agriculture and industrial applications.
Through its expertise in transferring power quietly and efficiently, Dayco has emerged as the leading global system solutions provider for hybrid electric vehicles. Dayco's 100+ years of experience in drive systems allows the company to equip all customer applications around the world with the most effective drive systems to meet customer specific performance requirements. Dayco's world class global distribution network services the aftermarket industry with a full offering of kits and products to meet each local market's need. Dayco accomplishes this with a dedicated global team that respects one another, shows humility through continuous learning and acts like owners in everything they do.
Dayco has more than 40 locations in 22 countries and over 3,600 associates. For more information about Dayco, visit the company's website at www.dayco.com.