April 28, 2021 – Dayco, a leading engine products and drive systems supplier for the automotive, industrial and aftermarket industries, last week held its Annual Aftermarket Brazil Sales Meeting, to align the company's new fiscal year, in a digital format.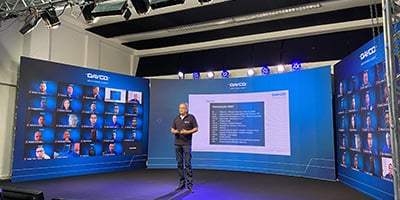 "Dayco has its own team throughout the national territory, and we needed to align the strategies for the new fiscal year with our 40 employees. Our previous events have always been in person, which is still not possible for us to resume, but at the same time, we did not want it to be just a simple digital meeting. So, we chose to work with a format where it was possible to keep the team together and "virtually present" the whole time, promoting greater interaction, dynamism and innovation with each surprise generated", comments Nathália Amorim, Dayco's Marketing Supervisor for Latin America.
Using a partner studio, the company conducted a live broadcast, during which the team stayed together to watch and contribute to the event that addressed the excellent work that has been developed, the records Dayco achieved, even in the period of the pandemic, and the various successful actions, such as the strengthening of the brand through digital platforms – whether via social media, or technical training – plus the constant product launches, new tools, as well as strategies for this year and, of course, goals.
"We were able to provide the team with breakfast, laugh and spend a day together. We felt a togetherness, even if one was in Belém, another in Fortaleza, one in Rio Grande do Sul, or in Goiás. We really like having the team close and I understand that nothing replaces the face-to-face, but we have to take advantage of these new possibilities and I could see that everyone was impressed with the innovation. We are now even more motivated to beat any challenge. Engaging any commercial team in front of a screen from 9 am to 6 pm is not easy, but we managed to do it in a light and really innovative way", comments Marcelo Sanches, Dayco's Aftermarket Director for Latin America.
The event also had the participation of the Global Aftermarket President, Bruno Vallillo, who was in Italy. Dayco has innovation in its DNA. The company applies this philosophy to its products, in its processes and it is easy to notice it in the company's daily routine. Its employees are constantly invited to seek new solutions, which contribute to its history of more than 100 years of success.
To learn more about Dayco, visit its aftermarket website – www.daycoaftermarket.com – which focuses on providing technical information and support to Dayco's many customers and to professional technicians around the world.
About Dayco
Dayco is a global leader in the research, design, manufacture and distribution of essential engine drive systems and aftermarket services for automotive, truck, construction, agriculture and industrial applications.
Through our expertise in transferring power quietly and efficiently, Dayco has emerged as the leading global system solutions provider for hybrid electric vehicles.  Dayco's 100+ years of experience in drive systems allows us to equip all customer applications around the world with the most effective drive systems to meet customer specific performance requirements.  Dayco's world class global distribution network services the aftermarket industry with a full offering of kits and products to meet each local market's need.  We accomplish this with a dedicated global team that respects one another, shows humility through continuous learning and acts like owners in everything we do.
Dayco has more than 40 locations in 21 countries and over 4,000 associates. For more information about Dayco, visit the Company's website at www.dayco.com