July 18, 2019 – The Watpac Townsville 400 held at the Reid Park Street Circuit from July 5 to 7 proved to be a history making one for Dayco Porsche Carrera Cup driver Roger Lago, while also being a very speedy weekend for Dayco sponsored Tickford Racing Mustang Supercar driver, Cam Waters.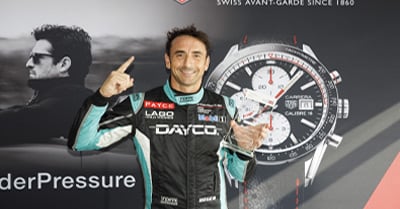 Returning to the concrete-walled street circuit where he suffered multiple injuries in a major Porsche Carrera Cup accident back in 2015, Lago made Porsche Carrera Cup Australia history by becoming the first ever Pro-Am category driver to set the outright pole position.
This extraordinary feat saw the Dayco driver out-pace all of the professional racers in the field, creating extraordinary television, print media and online coverage.
Lago went on to score a win and two third places in the Porsche Carrera Cup Pro-Am category for the weekend, marking an exciting and successful 5th round of the 2019 Championship that also elevated him to the lead of the Pro-Am points standings.
Overseeing Lago's race engineering for the weekend was fellow Dayco ambassador Dave Russell, whose detailed Porsche GT3 Cup Car set-up no doubt assisted Lago in this highly competitive fifth round of the national championship.
Monster Energy Mustang Supercar racer Cam Waters made it a double Dayco pole weekend in Townsville by winning the top ten shoot out to claim the top starting spot for Sunday's race. Waters was in strong form throughout the weather-challenged 64 lap race, finishing third. This was the Mustang Supercar driver's fifth podium result for the 2019 season.
According to David McClurg, Dayco Australia Sales and Marketing Director, "We are enjoying an exciting year on the track in Supercars and we are very pleased to be gaining strong coverage in our newly introduced Porsche Carrera Cup program with Roger Lago this season. Our trade customer feedback from our motorsport involvement has been great."
About Dayco
Dayco is a global leader in the research, design, manufacturing and distribution of essential engine products, drive systems and services for automobiles, trucks, construction, agriculture and industry.
Dayco's contributions are integral to how people get from place to place, goods are transported, food is harvested, and infrastructure is built. The company operates according to long-held values — keeping promises, delivering on time all the time, and an intense commitment to service no matter what the obstacles. For more than a century, Dayco has overcome challenges, emerging stronger and smarter at every turn.
Dayco improves how the world moves by creating products, systems and relationships that endure. Move Forward. Always.™
Dayco has more than 40 locations in 21 countries and over 4,500 associates. For more information about Dayco, visit the Company's website at www.dayco.com