September 16, 2019 – Dayco, a leading engine components and drive systems supplier for the automotive, industrial and aftermarket industries, is once again proving its extensive technical expertise, with the launch of a range of power transmission products for the marine sector.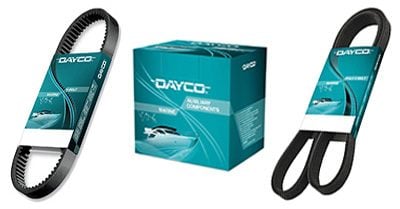 The addition, which encompasses more than 400 part numbers, includes important interrelated products such as poly-v belts, v-belts, tensioners, auxiliary kits, dampers, water pumps and rubber impellers, to provide an original equipment (OE) quality replacement solution, for both inboard and outboard engines.
In common with the automotive industry, due to the high level of safety required throughout the maritime environment, the marine sector is extremely demanding and only products with OE pedigree are acceptable. This makes the range, which is designed for engines from three to 16-litres capacity and caters for Volvo Penta, Mercury Marine/Mercruiser, IVECO AIFO, Cummins Marine, CAT Marine, SCANIA Marine and MAN Marine applications, a compelling proposition for the marine professional.
Naturally, in addition to its instantly recognisable packaging, resplendent in its Dayco global branding, the range is effectively supported through the company's fast and user-friendly web catalogue and mobile app, which ensures that finding the correct replacement component is a straightforward and accurate process.
For more information concerning the new marine offering, or any other OE quality power transmission product in the Dayco range, please visit: www.dayco.com
About Dayco
Dayco is a global leader in the research, design, manufacturing and distribution of essential engine products, drive systems and services for automobiles, trucks, construction, agriculture and industry.
Dayco's contributions are integral to how people get from place to place, goods are transported, food is harvested, and infrastructure is built. The company operates according to long-held values — keeping promises, delivering on time all the time, and an intense commitment to service no matter what the obstacles. For more than a century, Dayco has overcome challenges, emerging stronger and smarter at every turn.
Dayco improves how the world moves by creating products, systems and relationships that endure. Move Forward. Always.™
Dayco has more than 40 locations in 21 countries and over 4,500 associates. For more information about Dayco, visit the Company's website at www.dayco.com