Dayco will be exhibiting at Automec 2023, which takes place between April 25th and 29th, in São Paulo, Brazil, where it will present several product launches alongside its comprehensive aftermarket program, which now includes chassis systems and thermal management.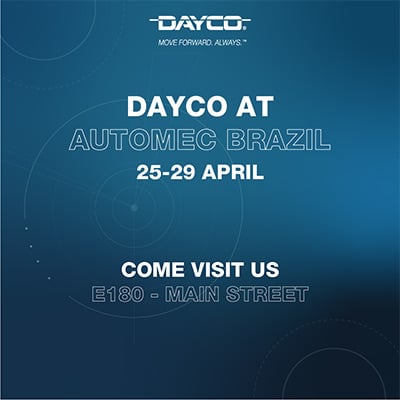 Recognizing the global shift in momentum from traditional internal combustion, towards hybrid and electric powertrains, Dayco, a leading engine products and drive systems supplier for the automotive, industrial and aftermarket industries with more than 110 years of technical heritage, constantly addresses its product portfolio to reflect the needs of the independent service and repair sector.
As a result, Dayco is significantly growing its chassis system offering, with the launch of a range original equipment (OE) equivalent steering & suspension components, which include axle joints, tie rod ends/assemblies, as well as track control arms.
Naturally, in keeping with its position as an OE manufacturer and supply partner to many vehicle manufacturers around the world, across multiple sectors, quality is paramount. So, the company's reputation for engineering excellence and technological prowess is reflected in the program, which provides wholesalers with a range that allows them to offer their workshop customers a brand with true OE pedigree and the confidence that invokes.
On a practical level this means that the range has been manufactured to OE equivalent standards for both performance and durability and has therefore been tested and verified during its production to stringent certified quality control protocols. Additional product testing to check for material fatigue and dimensional accuracy is supplemented by the application
Alongside these confidence inspiring factors, additional benefits from an installer perspective include the fact that where ancillary items such as fastenings and clips also need to be replaced when a component is fitted, the Dayco kit comes with all the necessary replacement items, which makes life easier for technicians and improves workshop efficiencies.
On the subject of efficiency, the accurate identification of the correct replacement part is a vital prerequisite for the successful introduction of any new product line, so all the necessary technical and application information will be available in the company's catalogs and webcat.
Finally, in accordance with the company's consistent brand identity, the steering & suspension program is powerfully presented in robust packaging, resplendent in Dayco's distinctive corporate imagery, which again further endorses the professional approach it takes to every aspect of its aftermarket business and in support of its valued customers.
The steering & suspension program will expand significantly, but the first products in the range will be available from Dayco distributors from May onwards. Very soon, other product lines that the company already offers outside Brazil, will also be introduced, reflecting developments in the market and the needs of its customers for premium quality products.
In addition to the steering & suspension components launch, Dayco will use Automec to present its wide range of belts and kits, which include belt in oil technology, high tenacity belts and kits for Ducati, as well as tensioners, switchable systems, thermal management products, CVT line and, of course, its heavy duty program.
Having recently made a major investment in the country, with the inauguration of the plant in the city of Indaiatuba, Dayco invites everyone to visit its stand E180, on the main street of Automec.
About Dayco
Dayco is a global leader in the research, design, manufacture and distribution of essential engine drive systems and aftermarket services for automotive, truck, construction, agriculture and industrial applications.
Through its expertise in transferring power quietly and efficiently, Dayco has emerged as the leading global system solutions provider for hybrid electric vehicles. Dayco's 115+ years of experience in drive systems allows the company to equip all customer applications around the world with the most effective drive systems to meet customer specific performance requirements. Dayco's world class global distribution network services the aftermarket industry with a full offering of kits and products to meet each local market's need. Dayco accomplishes this with a dedicated global team that respects one another, shows humility through continuous learning and acts like owners in everything they do.
Dayco has more than 40 locations in 22 countries and over 3,600 associates. For more information about Dayco, visit the company's website at www.dayco.com.