November 3, 2019 – Dayco, a leading engine products and drive systems supplier for the automotive, industrial and aftermarket industries is sure to "Pump You Up" at this years Automotive Aftermarket Product Exposition (AAPEX). AAPEX brings together industry professionals to gain insights on where the industry is headed, network with peers and experience products and technology on the horizon.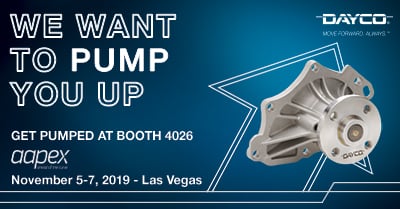 Dayco's "We Want to Pump You Up" theme is in reference to the recent expansion of their light vehicle and heavy duty water pump line, with over 950 SKUs offering total market coverage. Dayco water pumps are designed to meet OEM specifications. From raw material to complete assembly, all quality elements are controlled in-house. Each water pump is assembled using Programmable Logic Control (PLC), providing quality data during the manufacturing process and features 100% new aluminium cast material following TS16949 quality standards.
Additionally, Dayco has updated their aftermarket website. The updates more accurately reflect Dayco's position as a leading global manufacturer of original equipment (OE) and aftermarket components. Alongside the ability to promote global recognition of the Dayco brand, www.daycoaftermarket.com delivers in terms of content and the ability to provide an enhanced level of service to Dayco's existing and future customers. Among its many benefits, this exceptional resource features multiple search options to offer users the most convenient route to locate the correct replacement part.
Dayco will also be showcasing the official belt of Don Schumacher Racing (DSR). Designed by Dayco, the Dayco Racing supercharger belt has been specifically engineered for Top Fuel dragsters and Funny Cars, featuring a hybrid carbon cord encapsulated in custom rubber compounds and patented low friction PTFE tooth fabric. This standard 11mm pitch, 84mm wide and 145 teeth belt was developed using real-world track data, specifically for supercharged nitromethane engines and built to withstand some of the highest dynamic loads in racing.
"I think ultimately, great results take a long time to achieve, and the dedication that Dayco has put into creating the best belt to be able to withstand the highest amount of horsepower has paid off tremendously. Belt performance can make or break your run, and it can make or break a championship. Thanks to Dayco, we don't have to worry about belt failure. We put our trust in their development, and we work hand-in-hand with them to constantly improve upon the product. The relentless dedication to the motorsports program by Dayco has been one of the most impressive partnerships I've ever seen, and I'm very proud to be able to run the Dayco logo on the side of the car. " said Leah Pritchett, Top Fuel Dragster driver for Don Schumacher Racing.
Dayco is excited to share that Leah Pritchett will be making a guest appearance during AAPEX at their booth (4026) on Wednesday, November 6th from 10:30-11:30am. During this time, attendees will be able to receive her autograph and take photos with Pritchett.
"This year's AAPEX show affords Dayco a great opportunity to reinforce with the industry and with our customers that we truly are moving forward. Our new daycoaftermarket.com website, sponsorship with DSR and our recent product expansion of light vehicle and heavy duty water pumps are all indicative of Dayco's continuing desire to better serve our customers." said Mike McTeer, VP Sales & Marketing.
About Dayco
Dayco is a global leader in the research, design, manufacture and distribution of essential engine drive systems and aftermarket services for automotive, truck, construction, agriculture and industrial applications.
Through our expertise in transferring power quietly and efficiently, Dayco has emerged as the leading global system solutions provider for hybrid electric vehicles.  Dayco's 100+ years of experience in drive systems allows us to equip all customer applications around the world with the most effective drive systems to meet customer specific performance requirements.  Dayco's world class global distribution network services the aftermarket industry with a full offering of kits and products to meet each local market's need.  We accomplish this with a dedicated global team that respects one another, shows humility through continuous learning and acts like owners in everything we do.
Dayco has more than 40 locations in 22 countries and over 4,500 associates. For more information about Dayco, visit the Company's website at www.dayco.com