November 29, 2021 – Reflecting its 110-year history of engineering excellence, Dayco, a leading engine products and drive systems supplier for the automotive, industrial and aftermarket industries, is further expanding its thermal management portfolio with the introduction of electric water pumps (E-Pumps), for not only hybrid and electric vehicles (EV), but for selected traditional internal combustion engine (ICE) powered applications.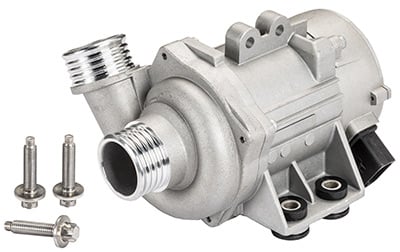 When it comes EVs and selected hybrid applications, e-pumps are the only solution assuring correct temperature management of the inverters and battery packs, for example.
Vehicle manufacturers globally are under huge pressure to reduce emissions and improve fuel consumption, which is why they work in partnership with system specialists such as Dayco to develop original equipment (OE) solutions, to achieve these objectives.
Nowadays, to maximize efficiencies for ICE thermal management, maintaining different operating temperatures around the engine is a necessity. To optimize the combustion process for example, the cylinder head area needs to run several degrees hotter than the block, where, to enhance the performance characteristics of the oil, it needs to run cooler. These differences would not be possible without split, or dual, cooling systems and the use of additional, electrically operated 'on demand' e-pumps to supplement, and in some applications, replace, the system's mechanical pump.
As a result, to support its aftermarket customers globally and to provide installers with the service and repair solutions they need, Dayco has introduced a wide range of main and auxiliary e-pumps to its thermal management program. The company's water pump offering, which is naturally manufactured to OE equivalent standards, is under continuous development and reflects the requirements of an ever-changing market.
To further underpin the e-pump offering, Dayco also provides the technical advice and fitting tips, and comprehensive cataloging support for which it is renowned, to ensure these new to range additions are a superb aftermarket solution for installers and wholesalers alike.
About Dayco
Dayco is a global leader in the research, design, manufacture and distribution of essential engine drive systems and aftermarket services for automotive, truck, construction, agriculture and industrial applications.
Through its expertise in transferring power quietly and efficiently, Dayco has emerged as the leading global system solutions provider for hybrid electric vehicles. Dayco's 100+ years of experience in drive systems allows the company to equip all customer applications around the world with the most effective drive systems to meet customer specific performance requirements. Dayco's world class global distribution network services the aftermarket industry with a full offering of kits and products to meet each local market's need. Dayco accomplishes this with a dedicated global team that respects one another, shows humility through continuous learning and acts like owners in everything they do.
Dayco has more than 40 locations in 21 countries and over 3,600 associates. For more information about Dayco, visit the company's website at www.dayco.com.