July 14, 2021 – Dayco, a leading engine products and drive systems specialist for the automotive, industrial and aftermarket industries, has launched a crimper program for customers in North America that stock hydraulic components.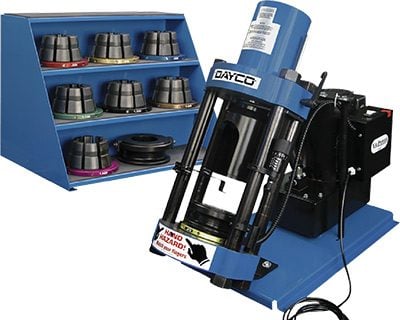 Designed to introduce all industrial customers to the benefits of using a premium Dayco crimper, the  company's new hydraulic crimper program helps simplify the process of securing or upgrading to a new crimper by providing a significant discount on three of the most popular crimper models offered. This special incentive program was in effect as of July 1st with a specific minimum purchase of any combination of Dayco hydraulic hoses and couplings.
Each crimper has a different capacity and the minimum one-time buy will vary depending on model and specific crimping needs. Dayco's hydraulic crimpers are dependable descendants of a long line of hydraulic crimpers that originated in 1980. Customizable with a choice of optional die sets and storage box, all crimpers are fully adjustable with the use of a micrometer for a perfect crimp every time.
D105DC Crimper – Delivering 35 tons of crimping force, this crimper includes a 1 HP pump and four strain rods for reinforcement and added precision and durability.
D165DC Crimper – Providing 60 tons of crimping force, this crimper quickly and easily works on materials most small crimpers are unable to handle.
D206DC Crimper – Specially designed for crimping a wide range of hose and coupling styles, this is the most versatile crimper Dayco offers. Providing 80 tons of crimping force, it comes with seven different sets of crimp dies.
Dayco hoses, couplings and crimping machines are designed to work as an effective and reliable assembly system for the best performance. With more than 1,000 part numbers, Dayco offers extensive hydraulics coverage with a comprehensive line of premium hoses and fittings for most industrial applications such as those in agriculture, timber, construction equipment, manufacturing and transportation. For more specific information on the crimper program, customers should reach out to their Dayco sales representative.
About Dayco
Dayco is a global leader in the research, design, manufacture and distribution of essential engine drive systems and aftermarket services for automotive, truck, construction, agriculture and industrial applications.
Through our expertise in transferring power quietly and efficiently, Dayco has emerged as the leading global system solutions provider for hybrid electric vehicles.  Dayco's 100+ years of experience in drive systems allows us to equip all customer applications around the world with the most effective drive systems to meet customer specific performance requirements.  Dayco's world class global distribution network services the aftermarket industry with a full offering of kits and products to meet each local market's need.  We accomplish this with a dedicated global team that respects one another, shows humility through continuous learning and acts like owners in everything we do.
Dayco has more than 40 locations in 21 countries and over 4,000 associates. For more information about Dayco, visit the Company's website at www.dayco.com