November 1, 2021 – Dayco, a leading engine products and drive systems specialist in the automotive, aftermarket and industrial sectors, has launched a comprehensive new North American Aftermarket website that includes the industry's most robust and easiest-to-use part search and a 'Tech Hub' with technical articles, videos and more – all developed by Dayco's lead Master ASE Certified technician and his team of product specialists, tech experts and former repair technicians.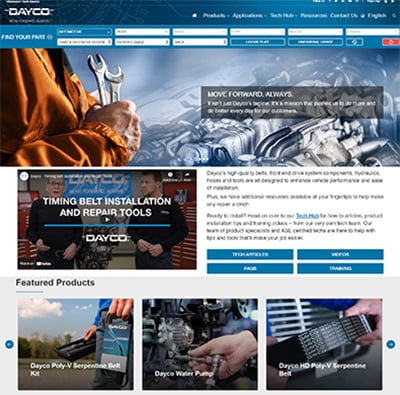 "The planning and development of Dayco's North American aftermarket website has been months in the making, and included weeks of in-person and remote research with dozens of repair techs across the United States and Canada," said Shannon Lara, Director of Marketing, Dayco North American Aftermarket. "We never lost sight of our main goal, which was to launch a site that addressed the top needs of our customers, which are to find the right part, the first time, every time and to offer a dedicated section of the site for all things technical."
The focal point of Dayco's new site, the Find Your Part search, is integrated at the top of every page of the website and allows users to search by year/make/model, cross-reference, VIN, dimensional look-up, or license plate number (USA only). Distributors also have easy access to a buyer's guide look-up within the Find Your Part search as well. Additionally, Dayco's team understands that most customers that will use the part search are professional technicians. With that in mind, the tool was designed to save the last 10 part searches at the top of the site, until the user is ready to clear them out. With just one click, previous vehicle information can be accessed without starting a new search.
A robust 'Tech Hub' section is the second key feature of the site. It has been populated with dozens of Dayco-produced how-to videos, tech tips, maintenance, installation and troubleshooting articles, FAQs and interactive training modules focused on belts, components, hoses and more. For more information, visit Dayco North America Aftermarket.
About Dayco
Dayco is a global leader in the research, design, manufacture and distribution of essential engine drive systems and aftermarket services for automotive, truck, construction, agriculture and industrial applications.
Through its expertise in transferring power quietly and efficiently, Dayco has emerged as the leading global system solutions provider for hybrid electric vehicles. Dayco's 100+ years of experience in drive systems allows the company to equip all customer applications around the world with the most effective drive systems to meet customer specific performance requirements. Dayco's world class global distribution network services the aftermarket industry with a full offering of kits and products to meet each local market's need. Dayco accomplishes this with a dedicated global team that respects one another, shows humility through continuous learning and acts like owners in everything they do.
Dayco has more than 40 locations in 21 countries and over 3,600 associates. For more information about Dayco, visit the company's website at www.dayco.com.