August 17, 2020 – Dayco, a leading engine products and drive systems supplier for the automotive, industrial and aftermarket industries, has been selected as a certified vendor partner of The Automotive Parts Services Group (The Group), a strategic alliance between the Pronto and Federated program groups. In addition to offering members a full range of engine components including water pumps and timing belts, Dayco's enhanced offering will include fill rate guarantees and access to robust market analytics.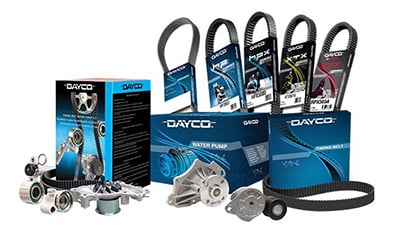 "The Group promotes a superior selection of premium OE and aftermarket products and marketing services to support its 5,000 outlets throughout North America," said Tom Tecklenburg, Vice President of Dayco's NA Aftermarket. "We are proud to have been selected as a certified supplier and look forward to providing premium aftermarket products designed to OEM specifications, continuously improving fill rates and sharing market analytics tailored to help members maximize sales while minimizing inventory."
Even in the midst of the Covid-19 pandemic, the Dayco team has worked hard to make enhancements to its sales operations process and supply chain and the results are showing with fill rates trending up to best-in-class targets for the company's NA distribution centers.
The Group members will also have access to a full line of premium products, including poly v-belts, tensioners and a soon-to-be launched water pump program.
Dayco water pumps are designed to meet OE specifications. From raw material to complete assembly, all quality elements are controlled in-house. Each water pump is assembled using Programmable Logic Control (PLC), providing quality data during the manufacturing process. Additionally, each water pump features 100% new aluminum cast material and follows TS16949 quality standards.
"We put all of our vendor partners through a rigorous process to ensure their products and services will meet the varying needs of our members," said Mike Mohler, Executive Vice President of Vendor Relations and Product Strategy at The Automotive Parts Services Group. "We are happy that Dayco is officially certified and our members can now access their full line of products."
About Dayco
Dayco is a global leader in the research, design, manufacture and distribution of essential engine drive systems and aftermarket services for automotive, truck, construction, agriculture and industrial applications.
Through our expertise in transferring power quietly and efficiently, Dayco has emerged as the leading global system solutions provider for hybrid electric vehicles.  Dayco's 100+ years of experience in drive systems allows us to equip all customer applications around the world with the most effective drive systems to meet customer specific performance requirements.  Dayco's world class global distribution network services the aftermarket industry with a full offering of kits and products to meet each local market's need.  We accomplish this with a dedicated global team that respects one another, shows humility through continuous learning and acts like owners in everything we do.
Dayco has more than 40 locations in 22 countries and over 4,500 associates. For more information about Dayco, visit the Company's website at www.dayco.com