November 1, 2021 – After hearing about significant installation issues with tensioners from multiple repair technicians on Detroit Diesel 13 and 15 series engines, Dayco, a leading engine products and drive systems specialist for the automotive, heavy-duty and industrial market segments, designed and engineered an all-new two-piece tensioner to help address high failure rates and installation problems with the original equipment design.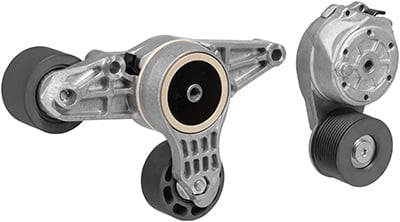 With more than 500,000 vehicles in operation, the DD13 and DD15 series engines are popular in Class 8 and other applications. The engine uses a competitor's dual tensioner assembly as original equipment, meaning a one-piece tensioner that keeps tension on two belts. However, reports from distributors and repair shops suggest the original OE tensioner was not only a large heavy unit, it was also failure prone. While the OE unit has since been upgraded, it is still difficult to install. Technicians are required to bend an 8-rib belt sideways through a very narrow opening during replacement, which can lead to belt issues if not done carefully.
Earlier this year, Dayco's technical team began working on the development of a heavy duty tensioner designed in two pieces to address the installation issues reported. Instead of struggling to get the belts on a one-piece tensioner, Dayco split the system in two, so the product has an outer and inner tensioner that cuts the installation time in half compared to competitive products.
The Dayco 89947 heavy duty two-piece tensioner is machined from high strength steel or powdered metal to provide excellent wear resistance under harsh environments. It features Dayco's patented flat spring technology and dual pressed-in pulley bearings to provide long bearing life and protection against the shock loads.
"Our team worked tirelessly to design a tensioner that would help save installation time and reduce downtime for  fleets," said Jay Buckley, Director of Training and Product Management, Dayco North American Aftermarket. "We were able to cut installation time in half while still maintaining product integrity and enhancing durability."
The Dayco 89947 heavy duty two-piece tensioner will be included in three different serpentine belt kits designed for DD13 and DD15 engines, and can also be ordered as a standalone tensioner. Dayco has a longstanding history with heavy duty OEMs as the company continues to supply 90% of the OEM market with belts and tensioners.
About Dayco
Dayco is a global leader in the research, design, manufacture and distribution of essential engine drive systems and aftermarket services for automotive, truck, construction, agriculture and industrial applications.
Through its expertise in transferring power quietly and efficiently, Dayco has emerged as the leading global system solutions provider for hybrid electric vehicles. Dayco's 100+ years of experience in drive systems allows the company to equip all customer applications around the world with the most effective drive systems to meet customer specific performance requirements. Dayco's world class global distribution network services the aftermarket industry with a full offering of kits and products to meet each local market's need. Dayco accomplishes this with a dedicated global team that respects one another, shows humility through continuous learning and acts like owners in everything they do.
Dayco has more than 40 locations in 21 countries and over 3,600 associates. For more information about Dayco, visit the company's website at www.dayco.com.