As part of its commitment to the independent sector throughout the EMEA (Europe, Middle East and Africa) region, Dayco, a leading original equipment (OE) engine products and drive systems supplier, is expanding its aftermarket program to include radiator and expansion tank caps.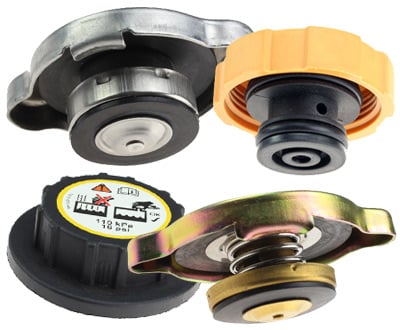 Although the company made its name by designing and manufacturing OE power transmission solutions for its vehicle manufacturer (VM) partners around the world, Dayco has dramatically grown its thermal management related product range to satisfy the increasing demands of its aftermarket customers who appreciate Dayco's OE quality products  and wish to purchase a wider range of products from a single, trusted supplier.
In keeping with its reputation for supplying premium quality components, Dayco's radiator cap range, which also includes expansion tank caps, is naturally manufactured to OE quality standards, not only in its design and composition, but its performance, which is assured by using individually specified materials to produce the internal pressure springs and seals, for example.
Reflecting the alternative cooling system designs adopted by VMs across the EMEA region, these often underappreciated components ensure that the working pressure in the cooling circuit is constant, prevent air from entering the system and allow the release of overpressure.
Generally, a radiator cap is used in an open circuit system, which is an older system design, although still favored by several Asian VMs, whereas an expansion cap is used in a closed circuit system, the solution adopted by most European VMs. In terms of their dominant material, radiator caps are almost always made of pressed steal and expansion tank caps of polymer, but a feature common to both is the pressure they are specified for, which is printed or etched on an obvious surface.
When it comes to coverage of the vehicle parc, Dayco has ensured that its range of 45 part numbers, designated with the product code DRC, caters for 80% of EMEA applications, which accounts for more than 480 OE references. Popular caps include DRC035 and DRC057 that together provide for 45 million VAG vehicles, and DRC053 and DRC056, which combine to cover a mixture of 43 million Stellantis and Ford models. Other big hitters include DRC045 for 15 million Ford, JLR and Volvo, DRC049 for 8 million BMWs and DRC004 for 13 million Asian vehicles.
Underlining the company's commitment to the aftermarket, each cap is individually packed in high quality and distinctive packaging, reflecting Dayco's globally recognized corporate branding. Naturally, the range is also fully supported in terms of marketing material, and its technical specifications and product data are available through its global website, where accurate identification and application reference information can also be found through the superb webcat catalogue facility.
For more information about Dayco, visit the aftermarket website at www.daycoaftermarket.com where customers and technicians can find comprehensive technical information and product support.
For more information regarding Dayco's OE quality products, please visit: www.dayco.com
About Dayco
Dayco is a global leader in the research, design, manufacture and distribution of essential engine drive systems and aftermarket services for automotive, truck, construction, agriculture and industrial applications.
Through its expertise in transferring power quietly and efficiently, Dayco has emerged as the leading global system solutions provider for hybrid electric vehicles. Dayco's 115+ years of experience in drive systems allows the company to equip all customer applications around the world with the most effective drive systems to meet customer specific performance requirements. Dayco's world class global distribution network services the aftermarket industry with a full offering of kits and products to meet each local market's need. Dayco accomplishes this with a dedicated global team that respects one another, shows humility through continuous learning and acts like owners in everything they do.
Dayco has more than 40 locations in 22 countries and over 3,600 associates. For more information about Dayco, visit the company's website at www.dayco.com.